Chamberlin & Wingert offers family units!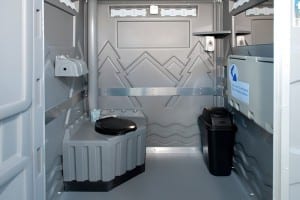 When you're planning a family-oriented event, it's important to consider the needs of children, babies, and parents/guardians alike! Chamberlin & Wingert offers family sized units that provide optimal space for children accompanied by adults, as well as a baby changing table and a mirror. Our family units are 61″ x 61″ and also include hand sanitizer!
The Enhanced Access Unit (EAU) provides enhanced access for persons who prefer a larger portable restroom, and has been used successfully by people in wheelchairs, though not ADA-approved. The EAU is made with the same strict quality standards as the rest of the fine PolyPortables line of products, including the following features:
Full-width handrail assemblies overlap in corners, reinforcing all three walls and all four corners.
Pneumatic door closure is balanced by heavy-duty cable spring for comfortable, consistent, predictable access.
Polyethylene extrusion floor provides maximum rigidity with only 1/2″ of thickness.
These Models are available in the colors Blue and Silver.
We are here to make your event or job site a success, so call us today and we can give you a quote on our family friendly units!
Interested in Learning More About Our Family Units?
Area served by cities:
CONFLUENCE,PA; MELCROFT,PA; URSINA,PA; SOMERSET,PA; HIDDEN VALLEY,PA; ACOSTA,PA; ALUM BANK,PA; BEDFORD,PA; BERLIN,PA; BOSWELL,PA; BOYNTON,PA; BREEZEWOOD,PA; BUFFALO MILLS,PA; CLEARVILLE,PA; CRYSTAL SPRING,PA; EVERETT,PA; FAIRHOPE,PA; FISHERTOWN,PA; FORT HILL,PA; FRIEDENS,PA; GARRETT,PA; GRAY,PA; HYNDMAN,PA; JENNERS,PA; JENNERSTOWN,PA; KANTNER,PA; LISTIE,PA; MANNS CHOICE,PA; MARKLETON,PA; MEYERSDALE,PA; NEW BALTIMORE,PA; NEW PARIS,PA; QUECREEK,PA; ROCKWOOD,PA; SALISBURY,PA; SCHELLSBURG,PA; SHANKSVILLE,PA; SIPESVILLE,PA; SPRINGS,PA; STOYSTOWN,PA; WELLERSBURG,PA; WEST SALISBURY,PA; BRADENVILLE,PA; CHAMPION,PA; DERRY,PA; DONEGAL,PA; JONES MILLS,PA; LAUGHLINTOWN,PA; LIGONIER,PA; LOYALHANNA,PA; NEW DERRY,PA; RECTOR,PA; STAHLSTOWN,PA; INDIANA,PA; ALVERDA,PA; ARCADIA,PA; AULTMAN,PA; NORTHERN CAMBRIA,PA; BIG RUN,PA; BLACK LICK,PA; BLAIRSVILLE,PA; BRUSH VALLEY,PA; BURNSIDE,PA; CARROLLTOWN,PA; CHAMBERSVILLE,PA; CHERRY TREE,PA; CLYMER,PA; COMMODORE,PA; CORAL,PA; DIXONVILLE,PA; ELMORA,PA; EMEIGH,PA; ERNEST,PA; GIPSY,PA; GLEN CAMPBELL,PA; HEILWOOD,PA; HILLSDALE,PA; HOME,PA; HOMER CITY,PA; JOSEPHINE,PA; LA JOSE,PA; LUCERNEMINES,PA; MAHAFFEY,PA; MARION CENTER,PA; MARSTELLER,PA; MENTCLE,PA; NICKTOWN,PA; PENN RUN,PA; ROCHESTER MILLS,PA; ROSSITER,PA; SAINT BENEDICT,PA; SPANGLER,PA; STARFORD,PA; TORRANCE,PA; DU BOIS,PA; BENEZETT,PA; DRIFTWOOD,PA; FORCE,PA; LUTHERSBURG,PA; PENFIELD,PA; ROCKTON,PA; SINNAMAHONING,PA; STUMP CREEK,PA; SYKESVILLE,PA; TROUTVILLE,PA; WEEDVILLE,PA; JOHNSTOWN,PA; ARMAGH,PA; BEAVERDALE,PA; BELSANO,PA; BOLIVAR,PA; CAIRNBROOK,PA; CASSANDRA,PA; CENTRAL CITY,PA; COLVER,PA; DAVIDSVILLE,PA; DILLTOWN,PA; DUNLO,PA; EBENSBURG,PA; ELTON,PA; HOLLSOPPLE,PA; HOOVERSVILLE,PA; JEROME,PA; LILLY,PA; LORETTO,PA; MINERAL POINT,PA; NANTY GLO,PA; NEW FLORENCE,PA; PARKHILL,PA; PORTAGE,PA; REVLOC,PA; ROBINSON,PA; SAINT MICHAEL,PA; SALIX,PA; SEANOR,PA; SEWARD,PA; SIDMAN,PA; SOUTH FORK,PA; STRONGSTOWN,PA; SUMMERHILL,PA; TIRE HILL,PA; TWIN ROCKS,PA; VINTONDALE,PA; WILMORE,PA; WINDBER,PA; ALTOONA,PA; ALEXANDRIA,PA; ASHVILLE,PA; BECCARIA,PA; BELLWOOD,PA; BLANDBURG,PA; BRISBIN,PA; BROAD TOP,PA; CALVIN,PA; CASSVILLE,PA; CHEST SPRINGS,PA; CLAYSBURG,PA; COALPORT,PA; COUPON,PA; CRESSON,PA; CURRYVILLE,PA; DEFIANCE,PA; DUDLEY,PA; DUNCANSVILLE,PA; DYSART,PA; EAST FREEDOM,PA; ENTRIKEN,PA; FALLENTIMBER,PA; FLINTON,PA; GALLITZIN,PA; GLASGOW,PA; GLEN HOPE,PA; HASTINGS,PA; HESSTON,PA; HOLLIDAYSBURG,PA; HOPEWELL,PA; HOUTZDALE,PA; HUNTINGDON,PA; IMLER,PA; IRVONA,PA; JAMES CREEK,PA; LOYSBURG,PA; MC CONNELLSTOWN,PA; MADERA,PA; MARTINSBURG,WV; MORANN,PA; NEW ENTERPRISE,PA; NEWRY,PA; OSCEOLA MILLS,PA; OSTERBURG,PA; PATTON,PA; PETERSBURG,PA; QUEEN,PA; RAMEY,PA; RIDDLESBURG,PA; ROARING SPRING,PA; ROBERTSDALE,PA; SAINT BONIFACE,PA; SANDY RIDGE,PA; SAXTON,PA; SIX MILE RUN,PA; SMITHMILL,PA; SMOKERUN,PA; SPROUL,PA; SPRUCE CREEK,PA; TIPTON,PA; TODD,PA; TYRONE,PA; WATERFALL,PA; WELLS TANNERY,PA; WESTOVER,PA; WILLIAMSBURG,PA; WOOD,PA; WOODBURY,PA; STATE COLLEGE,PA; UNIVERSITY PARK,PA; AARONSBURG,PA; ALLPORT,PA; BEECH CREEK,PA; BELLEFONTE,PA; BIGLER,PA; BLANCHARD,PA; BOALSBURG,PA; CENTRE HALL,PA; CLARENCE,PA; CLEARFIELD,PA; COBURN,PA; CURWENSVILLE,PA; DRIFTING,PA; FLEMING,PA; FRENCHVILLE,PA; GLEN RICHEY,PA; GRAMPIAN,PA; GRASSFLAT,PA; HAWK RUN,PA; HOWARD,PA; HYDE,PA; JULIAN,PA; KARTHAUS,PA; KYLERTOWN,PA; LAMAR,PA; LANSE,PA; LECONTES MILLS,PA; LEMONT,PA; MADISONBURG,PA; MILESBURG,PA; MILLHEIM,PA; MINERAL SPRINGS,PA; MINGOVILLE,PA; MORRISDALE,PA; MOSHANNON,PA; MUNSON,PA; NEW MILLPORT,PA; OLANTA,PA; ORVISTON,PA; PENNSYLVANIA FURNACE,PA; PHILIPSBURG,PA; PINE GROVE MILLS,PA; PORT MATILDA,PA; POTTERSDALE,PA; REBERSBURG,PA; SHAWVILLE,PA; SNOW SHOE,PA; SPRING MILLS,PA; WALLACETON,PA; WARRIORS MARK,PA; WEST DECATUR,PA; WINBURNE,PA; WOODLAND,PA; WOODWARD,PA; CAMP HILL,PA; ALLENSVILLE,PA; ANNVILLE,PA; BELLEVILLE,PA; BERRYSBURG,PA; BLAIN,PA; BOILING SPRINGS,PA; BURNHAM,PA; CAMPBELLTOWN,PA; CARLISLE,PA; COCOLAMUS,PA; CORNWALL,PA; DALMATIA,PA; DAUPHIN,PA; DILLSBURG,PA; DUNCANNON,PA; EAST WATERFORD,PA; ELIZABETHTOWN,PA; ELIZABETHVILLE,PA; ELLIOTTSBURG,PA; ENOLA,PA; FREDERICKSBURG,PA; GRANTHAM,PA; GRANTVILLE,PA; GRANVILLE,PA; GRATZ,PA; HALIFAX,PA; HERSHEY,PA; HIGHSPIRE,PA; HONEY GROVE,PA; HUMMELSTOWN,PA; ICKESBURG,PA; JONESTOWN,PA; KLEINFELTERSVILLE,PA; LANDISBURG,PA; LAWN,PA; LEBANON,PA; LEMOYNE,PA; LEWISTOWN,PA; LIVERPOOL,PA; LOYSVILLE,PA; LYKENS,PA; MC ALISTERVILLE,PA; MECHANICSBURG,PA; MC VEYTOWN,PA; MAPLETON DEPOT,PA; MARYSVILLE,PA; MATTAWANA,PA; MEXICO,PA; MIDDLETOWN,PA; MIFFLIN,PA; MIFFLINTOWN,PA; MILL CREEK,PA; MILLERSBURG,PA; MILLERSTOWN,PA; MILROY,PA; MOUNT GRETNA,PA; MOUNT HOLLY SPRINGS,PA; MOUNT UNION,PA; MYERSTOWN,PA; NEW BLOOMFIELD,PA; NEW BUFFALO,PA; NEW CUMBERLAND,PA; NEW GERMANTOWN,PA; NEW KINGSTOWN,PA; NEWMANSTOWN,PA; NEWPORT,PA; NEWTON HAMILTON,PA; OAKLAND MILLS,PA; ONO,PA; PALMYRA,PA; PILLOW,PA; PLAINFIELD,PA; PORT ROYAL,PA; QUENTIN,PA; REEDSVILLE,PA; REXMONT,PA; RICHFIELD,PA; RICHLAND,PA; SCHAEFFERSTOWN,PA; SHERMANS DALE,PA; SUMMERDALE,PA; THOMPSONTOWN,PA; WICONISCO,PA; WILLIAMSTOWN,PA; YEAGERTOWN,PA; HARRISBURG,PA; CHAMBERSBURG,PA; AMBERSON,PA; ARTEMAS,PA; BIG COVE TANNERY,PA; BLAIRS MILLS,PA; BLUE RIDGE SUMMIT,PA; BURNT CABINS,PA; CONCORD,PA; DOYLESBURG,PA; DRY RUN,PA; FANNETTSBURG,PA; FAYETTEVILLE,PA; FORT LITTLETON,PA; FORT LOUDON,PA; GREENCASTLE,PA; HARRISONVILLE,PA; HUSTONTOWN,PA; LEMASTERS,PA; LURGAN,PA; MC CONNELLSBURG,PA; MARION,PA; MERCERSBURG,PA; MONT ALTO,PA; NEEDMORE,PA; NEELYTON,PA; NEWBURG,PA; NEWVILLE,PA; ORBISONIA,PA; ORRSTOWN,PA; PLEASANT HALL,PA; QUINCY,PA; ROCKHILL FURNACE,PA; ROUZERVILLE,PA; ROXBURY,PA; SAINT THOMAS,PA; SALTILLO,PA; SCOTLAND,PA; SHADE GAP,PA; SHADY GROVE,PA; SHIPPENSBURG,PA; SHIRLEYSBURG,PA; SOUTH MOUNTAIN,PA; SPRING RUN,PA; STATE LINE,PA; THREE SPRINGS,PA; UPPERSTRASBURG,PA; WALNUT BOTTOM,PA; WARFORDSBURG,PA; WAYNESBORO,PA; WILLOW HILL,PA; ZULLINGER,PA; ABBOTTSTOWN,PA; AIRVILLE,PA; ARENDTSVILLE,PA; ASPERS,PA; BENDERSVILLE,PA; BIGLERVILLE,PA; BROGUE,PA; CASHTOWN,PA; CODORUS,PA; CRALEY,PA; DALLASTOWN,PA; DELTA,PA; DOVER,PA; EAST BERLIN,PA; EAST PROSPECT,PA; EMIGSVILLE,PA; ETTERS,PA; FAIRFIELD,PA; FAWN GROVE,PA; FELTON,PA; FRANKLINTOWN,PA; GARDNERS,PA; GETTYSBURG,PA; GLEN ROCK,PA; GLENVILLE,PA; HANOVER,PA; IDAVILLE,PA; LEWISBERRY,PA; LITTLESTOWN,PA; LOGANVILLE,PA; MC KNIGHTSTOWN,PA; MC SHERRYSTOWN,PA; MANCHESTER,PA; MOUNT WOLF,PA; NEW FREEDOM,PA; NEW OXFORD,PA; NEW PARK,PA; ORRTANNA,PA; PORTERS SIDELING,PA; RAILROAD,PA; RED LION,PA; ROSSVILLE,PA; SEVEN VALLEYS,PA; SHREWSBURY,PA; SPRING GROVE,PA; STEWARTSTOWN,PA; THOMASVILLE,PA; WELLSVILLE,PA; WINDSOR,PA; WRIGHTSVILLE,PA; YORK HAVEN,PA; YORK NEW SALEM,PA; YORK SPRINGS,PA; PEACH GLEN,PA; YORK,PA; AKRON,PA; BAINBRIDGE,PA; BART,PA; BAUSMAN,PA; BIRD IN HAND,PA; BLUE BALL,PA; BOWMANSVILLE,PA; BROWNSTOWN,PA; CHRISTIANA,PA; COLUMBIA,PA; CONESTOGA,PA; DENVER,PA; DRUMORE,PA; EAST EARL,PA; EAST PETERSBURG,PA; ELM,PA; EPHRATA,PA; GAP,PA; GOODVILLE,PA; GORDONVILLE,PA; HOLTWOOD,PA; HOPELAND,PA; INTERCOURSE,PA; KINZERS,PA; KIRKWOOD,PA; LAMPETER,PA; LANDISVILLE,PA; LEOLA,PA; LITITZ,PA; MANHEIM,PA; MARIETTA,PA; MARTINDALE,PA; MAYTOWN,PA; MILLERSVILLE,PA; MOUNT JOY,PA; MOUNTVILLE,PA; NARVON,PA; NEW HOLLAND,PA; NEW PROVIDENCE,PA; PARADISE,PA; PEACH BOTTOM,PA; PENRYN,PA; PEQUEA,PA; QUARRYVILLE,PA; REAMSTOWN,PA; REFTON,PA; REINHOLDS,PA; RHEEMS,PA; RONKS,PA; LANCASTER,PA; SILVER SPRING,PA; SMOKETOWN,PA; STEVENS,PA; STRASBURG,PA; TALMAGE,PA; TERRE HILL,PA; WASHINGTON BORO,PA; WEST WILLOW,PA; WILLOW STREET,PA; WITMER,PA; WILLIAMSPORT,PA; ANTES FORT,PA; AVIS,PA; CAMMAL,PA; CASTANEA,PA; CEDAR RUN,PA; COGAN STATION,PA; CROSS FORK,PA; DEWART,PA; HUGHESVILLE,PA; JERSEY MILLS,PA; JERSEY SHORE,PA; LAIRDSVILLE,PA; LINDEN,PA; LOCK HAVEN,PA; LOGANTON,PA; MC ELHATTAN,PA; MC EWENSVILLE,PA; MACKEYVILLE,PA; MILL HALL,PA; MONTGOMERY,PA; MONTOURSVILLE,PA; MUNCY,PA; NORTH BEND,PA; PICTURE ROCKS,PA; RENOVO,PA; SLATE RUN,PA; TROUT RUN,PA; TURBOTVILLE,PA; UNITYVILLE,PA; WATERVILLE,PA; WATSONTOWN,PA; WESTPORT,PA; WOOLRICH,PA; SUNBURY,PA; ALLENWOOD,PA; BEAVER SPRINGS,PA; BEAVERTOWN,PA; BLOOMSBURG,PA; CATAWISSA,PA; DANVILLE,PA; DORNSIFE,PA; ELYSBURG,PA; FREEBURG,PA; HARTLETON,PA; HERNDON,PA; HUMMELS WHARF,PA; MARION HEIGHTS,PA; KREAMER,PA; KULPMONT,PA; LAURELTON,PA; LECK KILL,PA; LEWISBURG,PA; LOCUST GAP,PA; MC CLURE,PA; MIDDLEBURG,PA; MIFFLINBURG,PA; MILLMONT,PA; MILLVILLE,PA; MILTON,PA; MONTANDON,PA; MOUNT CARMEL,PA; MOUNT PLEASANT MILLS,PA; NEW BERLIN,PA; NEW COLUMBIA,PA; NORTHUMBERLAND,PA; NUMIDIA,PA; ORANGEVILLE,PA; PAXINOS,PA; PAXTONVILLE,PA; PENNS CREEK,PA; PORT TREVORTON,PA; POTTS GROVE,PA; COAL TOWNSHIP,PA; REBUCK,PA; RIVERSIDE,PA; SELINSGROVE,PA; SHAMOKIN,PA; SHAMOKIN DAM,PA; SNYDERTOWN,PA; STILLWATER,PA; SWENGEL,PA; TREVORTON,PA; TROXELVILLE,PA; VICKSBURG,PA; WASHINGTONVILLE,PA; WEIKERT,PA; WEST MILTON,PA; WHITE DEER,PA; WILBURTON,PA; WINFIELD,PA; POTTSVILLE,PA; ARISTES,PA; ASHLAND,PA; AUBURN,PA; BRANCHDALE,PA; BROCKTON,PA; CRESSONA,PA; CUMBOLA,PA; FRACKVILLE,PA; FRIEDENSBURG,PA; GILBERTON,PA; GIRARDVILLE,PA; GORDON,PA; HEGINS,PA; KLINGERSTOWN,PA; LAVELLE,PA; LLEWELLYN,PA; LOCUSTDALE,PA; LOST CREEK,PA; MAHANOY CITY,PA; MAHANOY PLANE,PA; MAR LIN,PA; MARY D,PA; MIDDLEPORT,PA; MINERSVILLE,PA; MUIR,PA; NEW PHILADELPHIA,PA; NEW RINGGOLD,PA; ORWIGSBURG,PA; PINE GROVE,PA; PITMAN,PA; PORT CARBON,PA; RAVINE,PA; RINGTOWN,PA; SACRAMENTO,PA; SAINT CLAIR,PA; SCHUYLKILL HAVEN,PA; SELTZER,PA; SHENANDOAH,PA; SPRING GLEN,PA; SUMMIT STATION,PA; TOWER CITY,PA; TREMONT,PA; TUSCARORA,PA; VALLEY VIEW,PA; ZION GROVE,PA; HAZLETON,PA; BARNESVILLE,PA; COALDALE,PA; CONYNGHAM,PA; DELANO,PA; KELAYRES,PA; MCADOO,PA; NUREMBERG,PA; ONEIDA,PA; QUAKAKE,PA; ROCK GLEN,PA; SHEPPTON,PA; SUGARLOAF,PA; SYBERTSVILLE,PA; TAMAQUA,PA; WESTON,PA; BEACH HAVEN,PA; BERWICK,PA; MIFFLINVILLE,PA; NESCOPECK,PA; ATGLEN,PA; AVONDALE,PA; BRANDAMORE,PA; CHATHAM,PA; COATESVILLE,PA; COCHRANVILLE,PA; DOWNINGTOWN,PA; EXTON,PA; GLENMOORE,PA; HONEY BROOK,PA; KELTON,PA; KEMBLESVILLE,PA; KENNETT SQUARE,PA; LANDENBERG,PA; LEWISVILLE,PA; LINCOLN UNIVERSITY,PA; LIONVILLE,PA; LYNDELL,PA; MENDENHALL,PA; MODENA,PA; NEW LONDON,PA; NOTTINGHAM,PA; OXFORD,PA; PARKESBURG,PA; POCOPSON,PA; POMEROY,PA; SADSBURYVILLE,PA; SUPLEE,PA; THORNDALE,PA; TOUGHKENAMON,PA; UNIONVILLE,PA; WAGONTOWN,PA; WEST CHESTER,PA; WEST GROVE,PA; BIRCHRUNVILLE,PA; CHESTER SPRINGS,PA; POTTSTOWN,PA; SAINT PETERS,PA; UWCHLAND,PA; ADAMSTOWN,PA; BERNVILLE,PA; BETHEL,PA; BIRDSBORO,PA; BLANDON,PA; BOWERS,PA; BOYERTOWN,PA; CENTERPORT,PA; DOUGLASSVILLE,PA; EARLVILLE,PA; ELVERSON,PA; FLEETWOOD,PA; GEIGERTOWN,PA; HAMBURG,PA; KEMPTON,PA; KUTZTOWN,PA; LEESPORT,PA; LENHARTSVILLE,PA; LIMEKILN,PA; LYON STATION,PA; MERTZTOWN,PA; MOHNTON,PA; MOHRSVILLE,PA; MORGANTOWN,PA; MOUNT AETNA,PA; OLEY,PA; PINE FORGE,PA; PORT CLINTON,PA; REHRERSBURG,PA; ROBESONIA,PA; SHARTLESVILLE,PA; SHOEMAKERSVILLE,PA; STRAUSSTOWN,PA; TEMPLE,PA; TOPTON,PA; VIRGINVILLE,PA; WERNERSVILLE,PA; WOMELSDORF,PA; READING,PA; BEAR,DE; NEWARK,DE; HOCKESSIN,DE; NEW CASTLE,DE; YORKLYN,DE; WILMINGTON, DE; WASHINGTON D.C.; DULLES,VA; ALDIE,VA; AMISSVILLE,VA; MANASSAS,VA; MARSHALL,VA; CATLETT,VA; CENTREVILLE,VA; CLIFTON,VA; ORLEAN,VA; PAEONIAN SPRINGS,VA; PARIS,VA; PHILOMONT,VA; PURCELLVILLE,VA; BLUEMONT,VA; BRISTOW,VA; BROAD RUN,VA; CALVERTON,VA; CASANOVA,VA; RECTORTOWN,VA; ROUND HILL,VA; CATHARPIN,VA; DELAPLANE,VA; ASHBURN,VA; CHANTILLY,VA; GAINESVILLE,VA; HAMILTON,VA; LINCOLN,VA; STERLING,VA; HAYMARKET,VA; LEESBURG,VA; LOVETTSVILLE,VA; NOKESVILLE,VA; UPPERVILLE,VA; WARRENTON,VA; RESTON,VA; WATERFORD,VA; THE PLAINS,VA; BRYANS ROAD,MD; CHELTENHAM,MD; SOUTHERN MD FACILITY,MD; ANNAPOLIS JUNCTION,MD; LANHAM,MD; BELTSVILLE,MD; LAUREL,MD; BLADENSBURG,MD; LOTHIAN,MD; MOUNT RAINIER,MD; BOWIE,MD; BRENTWOOD,MD; CAPITOL HEIGHTS,MD; CLINTON,MD; RIVERDALE,MD; COLLEGE PARK,MD; FORT WASHINGTON,MD; OXON HILL,MD; SUITLAND,MD; DISTRICT HEIGHTS,MD; TEMPLE HILLS,MD; FORT GEORGE G MEADE,MD; FULTON,MD; ANDREWS AIR FORCE BASE,MD; SAVAGE,MD; SHADY SIDE,MD; GALESVILLE,MD; GREENBELT,MD; GLENN DALE,MD; UPPER MARLBORO,MD; HARWOOD,MD; HIGHLAND,MD; WEST RIVER,MD; HYATTSVILLE,MD; JESSUP,MD; BETHESDA,MD; GLEN ECHO,MD; CHEVY CHASE,MD; CABIN JOHN,MD; OLNEY,MD; BROOKEVILLE,MD; POOLESVILLE,MD; BEALLSVILLE,MD; BOYDS,MD; DICKERSON,MD; ROCKVILLE,MD; POTOMAC,MD; DERWOOD,MD; SANDY SPRING,MD; ASHTON,MD; BRINKLOW,MD; BURTONSVILLE,MD; SPENCERVILLE,MD; CLARKSBURG,MD; DAMASCUS,MD; GERMANTOWN,MD; GAITHERSBURG,MD; WASHINGTON GROVE,MD; MONTGOMERY VILLAGE,MD; KENSINGTON,MD; GARRETT PARK,MD; SUBURB MARYLAND FAC,MD; TAKOMA PARK,MD; ABERDEEN,MD; ABERDEEN PROVING GROUND,MD; ABINGDON,MD; GUNPOWDER,MD; ARNOLD,MD; BALDWIN,MD; BEL AIR,MD; BELCAMP,MD; BENSON,MD; BORING,MD; BROOKLANDVILLE,MD; BUTLER,MD; CHASE,MD; CHURCHVILLE,MD; CLARKSVILLE,MD; COCKEYSVILLE,MD; HUNT VALLEY,MD; CROWNSVILLE,MD; DARLINGTON,MD; DAVIDSONVILLE,MD; DAYTON,MD; EDGEWATER,MD; EDGEWOOD,MD; ELLICOTT CITY,MD; FALLSTON,MD; FINKSBURG,MD; FOREST HILL,MD; FORK,MD; FORT HOWARD,MD; FREELAND,MD; GAMBRILLS,MD; GIBSON ISLAND,MD; GLEN ARM,MD; GLEN BURNIE,MD; GLYNDON,MD; HAMPSTEAD,MD; ELKRIDGE,MD; HARMANS,MD; HAVRE DE GRACE,MD; HYDES,MD; JARRETTSVILLE,MD; JOPPA,MD; KINGSVILLE,MD; LINEBORO,MD; LINTHICUM HEIGHTS,MD; LONG GREEN,MD; LUTHERVILLE TIMONIUM,MD; MARRIOTTSVILLE,MD; MARYLAND LINE,MD; MAYO,MD; MONKTON,MD; ODENTON,MD; CROFTON,MD; OWINGS MILLS,MD; PARKTON,MD; PASADENA,MD; PERRY HALL,MD; PERRYMAN,MD; PHOENIX,MD; PYLESVILLE,MD; RANDALLSTOWN,MD; REISTERSTOWN,MD; RIDERWOOD,MD; RIVA,MD; SEVERN,MD; SEVERNA PARK,MD; SIMPSONVILLE,MD; SPARKS GLENCOE,MD; STEVENSON,MD; STREET,MD; UPPERCO,MD; UPPER FALLS,MD; WESTMINSTER,MD; WHITEFORD,MD; WHITE HALL,MD; WHITE MARSH,MD; WOODSTOCK,MD; BALTIMORE,MD; TOWSON,MD; GWYNN OAK,MD; PIKESVILLE,MD; SPARROWS POINT,MD; MIDDLE RIVER,MD; ESSEX,MD; DUNDALK,MD; BROOKLYN,MD; CURTIS BAY,MD; HALETHORPE,MD; CATONSVILLE,MD; PARKVILLE,MD; ROSEDALE,MD; WINDSOR MILL,MD; ANNAPOLIS,MD; CUMBERLAND,MD; BARTON,MD; BITTINGER,MD; BLOOMINGTON,MD; CORRIGANVILLE,MD; ECKHART MINES,MD; ELLERSLIE,MD; FLINTSTONE,MD; FROSTBURG,MD; GRANTSVILLE,MD; LONACONING,MD; LUKE,MD; MIDLAND,MD; MIDLOTHIAN,MD; MOUNT SAVAGE,MD; OLDTOWN,MD; PINTO,MD; RAWLINGS,MD; SPRING GAP,MD; SWANTON,MD; WESTERNPORT,MD; BETTERTON,MD; CHESTERTOWN,MD; KENNEDYVILLE,MD; ROCK HALL,MD; STEVENSVILLE,MD; STILL POND,MD; WORTON,MD; FREDERICK,MD; BIG POOL,MD; BOONSBORO,MD; BRADDOCK HEIGHTS,MD; BROWNSVILLE,MD; BRUNSWICK,MD; BUCKEYSTOWN,MD; BURKITTSVILLE,MD; CASCADE,MD; CAVETOWN,MD; CHEWSVILLE,MD; CLEAR SPRING,MD; COOKSVILLE,MD; EMMITSBURG,MD; FAIRPLAY,MD; FUNKSTOWN,MD; GLENELG,MD; GLENWOOD,MD; HAGERSTOWN,MD; HANCOCK,MD; IJAMSVILLE,MD; JEFFERSON,MD; KEEDYSVILLE,MD; KEYMAR,MD; KNOXVILLE,MD; LADIESBURG,MD; LIBERTYTOWN,MD; LISBON,MD; LITTLE ORLEANS,MD; MAUGANSVILLE,MD; MONROVIA,MD; MOUNT AIRY,MD; MYERSVILLE,MD; NEW MARKET,MD; NEW MIDWAY,MD; NEW WINDSOR,MD; POINT OF ROCKS,MD; ROCKY RIDGE,MD; ROHRERSVILLE,MD; SABILLASVILLE,MD; SAINT JAMES,MD; SHARPSBURG,MD; SMITHSBURG,MD; TANEYTOWN,MD; THURMONT,MD; UNION BRIDGE,MD; WALKERSVILLE,MD; WEST FRIENDSHIP,MD; WOODBINE,MD; WOODSBORO,MD; NORTH EAST,MD; PERRY POINT,MD; PERRYVILLE,MD; PORT DEPOSIT,MD; RISING SUN,MD; WARWICK,MD; CECILTON,MD; CHARLESTOWN,MD; CHESAPEAKE CITY,MD; CHILDS,MD; COLORA,MD; CONOWINGO,MD; EARLEVILLE,MD; ELK MILLS,MD; ELKTON,MD; GEORGETOWN,MD; ANNANDALE,VA; BURKE,VA; DUNN LORING,VA; FAIRFAX,VA; FAIRFAX STATION,VA; FALLS CHURCH,VA; FORT BELVOIR,VA; GREAT FALLS,VA; GREENWAY,VA; LORTON,VA; MERRIFIELD,VA; MC LEAN,VA; WEST MCLEAN,VA; MOUNT VERNON,VA; NEWINGTON,VA; OAKTON,VA; OCCOQUAN,VA; SPRINGFIELD,VA; VIENNA,VA; WOODBRIDGE,VA; ARLINGTON,VA; FORT MYER,VA; WINCHESTER,VA; BENTONVILLE,VA; BERRYVILLE,VA; BOYCE,VA; BRUCETOWN,VA; CHESTER GAP,VA; CLEAR BROOK,VA; CROSS JUNCTION,VA; FISHERS HILL,VA; FLINT HILL,VA; FRONT ROYAL,VA; GORE,VA; HUME,VA; HUNTLY,VA; MARKHAM,VA; MAURERTOWN,VA; MILLWOOD,VA; FORT VALLEY,VA; STAR TANNERY,VA; STEPHENS CITY,VA; STEPHENSON,VA; TOMS BROOK,VA; WHITE POST,VA; BAKERTON,WV; BERKELEY SPRINGS,WV; BUNKER HILL,WV; CHARLES TOWN,WV; FALLING WATERS,WV; GERRARDSTOWN,WV; GLENGARY,WV; GREAT CACAPON,WV; HALLTOWN,WV; HARPERS FERRY,WV; HEDGESVILLE,WV; INWOOD,WV; KEARNEYSVILLE,WV; LEVELS,WV; PAW PAW,WV; POINTS,WV; RANSON,WV; RIDGEWAY,WV; RIPPON,WV; SHENANDOAH JUNCTION,WV; SHEPHERDSTOWN,WV; SLANESVILLE,WV; SUMMIT POINT,WV; AUGUSTA,WV; BURLINGTON,WV; CAPON BRIDGE,WV; DELRAY,WV; FORT ASHBY,WV; GREEN SPRING,WV; KEYSER,WV; NEW CREEK,WV; PIEDMONT,WV; RIDGELEY,WV; RIO,WV; ROMNEY,WV; SHANKS,WV; WILEY FORD,WV; BAKER,WV; HIGH VIEW,WV; BLOOMERY,WV; CAPON SPRINGS,WV; OLD FIELDS,WV; WARDENSVILLE,WV; PURGITSVILLE,WV; YELLOW SPRING,WV
Area served by zip code:
15424, 15462, 15485, 15501, 15502, 15510, 15520, 15521, 15522, 15530, 15531, 15532, 15533, 15534, 15535, 15536, 15537, 15538, 15539, 15540, 15541, 15542, 15544, 15545, 15546, 15547, 15548, 15549, 15550, 15551, 15552, 15553, 15554, 15555, 15557, 15558, 15559, 15560, 15561, 15562, 15563, 15564, 15565, 15620, 15622, 15627, 15628, 15646, 15655, 15658, 15661, 15671, 15677, 15687, 15701, 15705, 15710, 15712, 15713, 15714, 15715, 15716, 15717, 15720, 15721, 15722, 15723, 15724, 15728, 15729, 15731, 15734, 15737, 15738, 15739, 15741, 15742, 15745, 15746, 15747, 15748, 15750, 15753, 15754, 15757, 15759, 15760, 15761, 15762, 15765, 15771, 15772, 15773, 15775, 15777, 15779, 15801, 15821, 15832, 15841, 15848, 15849, 15856, 15861, 15863, 15865, 15866, 15868, 15901, 15902, 15904, 15905, 15906, 15907, 15909, 15915, 15920, 15921, 15922, 15923, 15924, 15925, 15926, 15927, 15928, 15929, 15930, 15931, 15934, 15935, 15936, 15937, 15938, 15940, 15942, 15943, 15944, 15945, 15946, 15948, 15949, 15951, 15952, 15953, 15954, 15955, 15956, 15957, 15958, 15959, 15960, 15961, 15962, 15963, 16601, 16602, 16603, 16611, 16613, 16616, 16617, 16619, 16620, 16621, 16622, 16623, 16624, 16625, 16627, 16629, 16630, 16631, 16633, 16634, 16635, 16636, 16637, 16638, 16639, 16640, 16641, 16644, 16645, 16646, 16647, 16648, 16650, 16651, 16652, 16654, 16655, 16656, 16657, 16659, 16660, 16661, 16662, 16663, 16664, 16665, 16666, 16667, 16668, 16669, 16670, 16671, 16672, 16673, 16674, 16675, 16677, 16678, 16679, 16680, 16681, 16682, 16683, 16684, 16685, 16686, 16689, 16691, 16692, 16693, 16694, 16695, 16698, 16699, 16801, 16802, 16803, 16804, 16805, 16820, 16821, 16822, 16823, 16825, 16826, 16827, 16828, 16829, 16830, 16832, 16833, 16834, 16835, 16836, 16837, 16838, 16839, 16840, 16841, 16843, 16844, 16845, 16847, 16848, 16849, 16850, 16851, 16852, 16853, 16854, 16855, 16856, 16858, 16859, 16860, 16861, 16863, 16864, 16865, 16866, 16868, 16870, 16871, 16872, 16873, 16874, 16875, 16876, 16877, 16878, 16879, 16881, 16882, 17001, 17002, 17003, 17004, 17005, 17006, 17007, 17009, 17010, 17011, 17012, 17013, 17014, 17015, 17016, 17017, 17018, 17019, 17020, 17021, 17022, 17023, 17024, 17025, 17026, 17027, 17028, 17029, 17030, 17032, 17033, 17034, 17035, 17036, 17037, 17038, 17039, 17040, 17041, 17042, 17043, 17044, 17045, 17046, 17047, 17048, 17049, 17050, 17051, 17052, 17053, 17054, 17055, 17056, 17057, 17058, 17059, 17060, 17061, 17062, 17063, 17064, 17065, 17066, 17067, 17068, 17069, 17070, 17071, 17072, 17073, 17074, 17075, 17076, 17077, 17078, 17080, 17081, 17082, 17083, 17084, 17085, 17086, 17087, 17088, 17089, 17090, 17093, 17094, 17097, 17098, 17099, 17101, 17102, 17103, 17104, 17105, 17106, 17107, 17108, 17109, 17110, 17111, 17112, 17113, 17120, 17121, 17122, 17123, 17124, 17125, 17126, 17127, 17128, 17129, 17130, 17140, 17177, 17201, 17202, 17210, 17211, 17212, 17213, 17214, 17215, 17217, 17219, 17220, 17221, 17222, 17223, 17224, 17225, 17228, 17229, 17231, 17232, 17233, 17235, 17236, 17237, 17238, 17239, 17240, 17241, 17243, 17244, 17246, 17247, 17249, 17250, 17251, 17252, 17253, 17254, 17255, 17256, 17257, 17260, 17261, 17262, 17263, 17264, 17265, 17266, 17267, 17268, 17271, 17272, 17301, 17302, 17303, 17304, 17306, 17307, 17309, 17310, 17311, 17312, 17313, 17314, 17315, 17316, 17317, 17318, 17319, 17320, 17321, 17322, 17323, 17324, 17325, 17327, 17329, 17331, 17332, 17333, 17334, 17337, 17339, 17340, 17342, 17343, 17344, 17345, 17347, 17349, 17350, 17352, 17353, 17354, 17355, 17356, 17358, 17360, 17361, 17362, 17363, 17364, 17365, 17366, 17368, 17370, 17371, 17372, 17375, 17401, 17402, 17403, 17404, 17405, 17406, 17407, 17408, 17501, 17502, 17503, 17504, 17505, 17506, 17507, 17508, 17509, 17512, 17516, 17517, 17518, 17519, 17520, 17521, 17522, 17527, 17528, 17529, 17532, 17533, 17534, 17535, 17536, 17537, 17538, 17540, 17543, 17545, 17547, 17549, 17550, 17551, 17552, 17554, 17555, 17557, 17560, 17562, 17563, 17564, 17565, 17566, 17567, 17568, 17569, 17570, 17572, 17573, 17575, 17576, 17578, 17579, 17580, 17581, 17582, 17583, 17584, 17585, 17601, 17602, 17603, 17604, 17605, 17606, 17607, 17608, 17611, 17622, 17699, 17701, 17702, 17703, 17705, 17720, 17721, 17723, 17726, 17727, 17728, 17729, 17730, 17737, 17739, 17740, 17742, 17744, 17745, 17747, 17748, 17749, 17750, 17751, 17752, 17754, 17756, 17760, 17762, 17764, 17769, 17771, 17772, 17774, 17776, 17777, 17778, 17779, 17801, 17810, 17812, 17813, 17815, 17820, 17821, 17822, 17823, 17824, 17827, 17829, 17830, 17831, 17832, 17833, 17834, 17835, 17836, 17837, 17840, 17841, 17842, 17843, 17844, 17845, 17846, 17847, 17850, 17851, 17853, 17855, 17856, 17857, 17858, 17859, 17860, 17861, 17862, 17864, 17865, 17866, 17867, 17868, 17870, 17872, 17876, 17877, 17878, 17880, 17881, 17882, 17883, 17884, 17885, 17886, 17887, 17888, 17889, 17901, 17920, 17921, 17922, 17923, 17925, 17929, 17930, 17931, 17932, 17933, 17934, 17935, 17936, 17938, 17941, 17943, 17944, 17945, 17946, 17948, 17949, 17951, 17952, 17953, 17954, 17957, 17959, 17960, 17961, 17963, 17964, 17965, 17966, 17967, 17968, 17970, 17972, 17974, 17976, 17978, 17979, 17980, 17981, 17982, 17983, 17985, 18202, 18214, 18218, 18219, 18220, 18231, 18237, 18241, 18242, 18245, 18246, 18248, 18249, 18251, 18252, 18256, 18601, 18603, 18631, 18635, 19310, 19311, 19316, 19318, 19320, 19330, 19335, 19341, 19343, 19344, 19346, 19347, 19348, 19350, 19351, 19352, 19353, 19354, 19357, 19358, 19360, 19362, 19363, 19365, 19366, 19367, 19369, 19371, 19372, 19374, 19375, 19376, 19380, 19382, 19390, 19421, 19425, 19465, 19470, 19480, 19501, 19506, 19507, 19508, 19510, 19511, 19512, 19516, 19518, 19519, 19520, 19522, 19523, 19526, 19529, 19530, 19533, 19534, 19535, 19536, 19539, 19540, 19541, 19543, 19544, 19547, 19548, 19549, 19550, 19551, 19554, 19555, 19559, 19560, 19562, 19564, 19565, 19567, 19601, 19602, 19603, 19604, 19605, 19606, 19607, 19608, 19609, 19610, 19611, 19612, 19701, 19702, 19707, 19711, 19712, 19713, 19714, 19715, 19716, 19717, 19718, 19725, 19726, 19736, 19808, 20001, 20002, 20003, 20004, 20005, 20006, 20007, 20008, 20009, 20010, 20011, 20012, 20013, 20015, 20016, 20017, 20018, 20019, 20020, 20022, 20024, 20026, 20027, 20029, 20030, 20032, 20033, 20035, 20036, 20037, 20038, 20039, 20040, 20041, 20042, 20043, 20044, 20045, 20047, 20049, 20050, 20052, 20053, 20055, 20056, 20057, 20058, 20059, 20060, 20061, 20062, 20063, 20064, 20065, 20066, 20067, 20068, 20069, 20070, 20071, 20073, 20074, 20075, 20076, 20077, 20078, 20080, 20081, 20082, 20090, 20091, 20101, 20102, 20103, 20104, 20105, 20106, 20108, 20109, 20110, 20111, 20112, 20113, 20115, 20116, 20117, 20118, 20119, 20120, 20121, 20122, 20124, 20128, 20129, 20130, 20131, 20132, 20134, 20135, 20136, 20137, 20138, 20139, 20140, 20141, 20142, 20143, 20144, 20146, 20147, 20148, 20149, 20151, 20152, 20153, 20155, 20156, 20158, 20159, 20160, 20163, 20164, 20165, 20166, 20167, 20168, 20169, 20170, 20171, 20172, 20175, 20176, 20177, 20178, 20180, 20181, 20182, 20184, 20185, 20186, 20187, 20188, 20189, 20190, 20191, 20192, 20194, 20195, 20196, 20197, 20198, 20201, 20202, 20203, 20204, 20206, 20207, 20208, 20210, 20211, 20212, 20213, 20214, 20215, 20216, 20217, 20218, 20219, 20220, 20221, 20222, 20223, 20224, 20226, 20227, 20228, 20229, 20230, 20232, 20233, 20235, 20237, 20238, 20239, 20240, 20241, 20242, 20244, 20245, 20250, 20251, 20254, 20260, 20261, 20262, 20265, 20266, 20268, 20270, 20277, 20289, 20299, 20301, 20303, 20306, 20310, 20314, 20317, 20318, 20319, 20330, 20340, 20350, 20355, 20370, 20372, 20373, 20374, 20375, 20376, 20380, 20388, 20389, 20390, 20391, 20392, 20393, 20394, 20395, 20398, 20401, 20402, 20403, 20404, 20405, 20406, 20407, 20408, 20409, 20410, 20411, 20412, 20413, 20414, 20415, 20416, 20417, 20418, 20419, 20420, 20421, 20422, 20423, 20424, 20425, 20426, 20427, 20428, 20429, 20431, 20433, 20434, 20435, 20436, 20437, 20439, 20440, 20441, 20442, 20444, 20447, 20451, 20453, 20456, 20460, 20463, 20468, 20469, 20470, 20472, 20500, 20501, 20502, 20503, 20504, 20505, 20506, 20507, 20508, 20509, 20510, 20511, 20515, 20520, 20521, 20522, 20523, 20524, 20525, 20526, 20527, 20528, 20529, 20530, 20531, 20532, 20533, 20534, 20535, 20536, 20537, 20538, 20539, 20540, 20541, 20542, 20543, 20544, 20546, 20547, 20548, 20549, 20551, 20552, 20553, 20554, 20555, 20557, 20559, 20560, 20565, 20566, 20570, 20571, 20572, 20573, 20575, 20576, 20577, 20578, 20579, 20580, 20581, 20585, 20586, 20590, 20591, 20593, 20594, 20597, 20599, 20616, 20623, 20697, 20701, 20703, 20704, 20705, 20706, 20707, 20708, 20709, 20710, 20711, 20712, 20715, 20716, 20717, 20718, 20719, 20720, 20721, 20722, 20723, 20724, 20725, 20726, 20731, 20735, 20737, 20738, 20740, 20741, 20742, 20743, 20744, 20745, 20746, 20747, 20748, 20749, 20750, 20752, 20753, 20755, 20757, 20759, 20762, 20763, 20764, 20765, 20768, 20769, 20770, 20771, 20772, 20773, 20774, 20775, 20776, 20777, 20778, 20781, 20782, 20783, 20784, 20785, 20787, 20788, 20790, 20791, 20792, 20794, 20797, 20799, 20810, 20811, 20812, 20813, 20814, 20815, 20816, 20817, 20818, 20824, 20825, 20827, 20830, 20832, 20833, 20837, 20838, 20839, 20841, 20842, 20847, 20848, 20849, 20850, 20851, 20852, 20853, 20854, 20855, 20857, 20859, 20860, 20861, 20862, 20866, 20868, 20871, 20872, 20874, 20875, 20876, 20877, 20878, 20879, 20880, 20882, 20883, 20884, 20885, 20886, 20889, 20891, 20892, 20894, 20895, 20896, 20897, 20898, 20899, 20901, 20902, 20903, 20904, 20905, 20906, 20907, 20908, 20910, 20911, 20912, 20913, 20914, 20915, 20916, 20918, 20993, 20997, 21001, 21005, 21009, 21010, 21012, 21013, 21014, 21015, 21017, 21018, 21020, 21022, 21023, 21027, 21028, 21029, 21030, 21031, 21032, 21034, 21035, 21036, 21037, 21040, 21041, 21042, 21043, 21044, 21045, 21046, 21047, 21048, 21050, 21051, 21052, 21053, 21054, 21056, 21057, 21060, 21061, 21062, 21065, 21071, 21074, 21075, 21076, 21077, 21078, 21082, 21084, 21085, 21087, 21088, 21090, 21092, 21093, 21094, 21102, 21104, 21105, 21106, 21108, 21111, 21113, 21114, 21117, 21120, 21122, 21123, 21128, 21130, 21131, 21132, 21133, 21136, 21139, 21140, 21144, 21146, 21150, 21152, 21153, 21154, 21155, 21156, 21157, 21158, 21160, 21161, 21162, 21163, 21201, 21202, 21203, 21204, 21205, 21206, 21207, 21208, 21209, 21210, 21211, 21212, 21213, 21214, 21215, 21216, 21217, 21218, 21219, 21220, 21221, 21222, 21223, 21224, 21225, 21226, 21227, 21228, 21229, 21230, 21231, 21233, 21234, 21235, 21236, 21237, 21239, 21240, 21241, 21244, 21250, 21251, 21252, 21263, 21264, 21270, 21273, 21275, 21278, 21279, 21280, 21281, 21282, 21284, 21285, 21286, 21287, 21288, 21289, 21290, 21297, 21298, 21401, 21402, 21403, 21404, 21405, 21409, 21411, 21412, 21501, 21502, 21503, 21504, 21505, 21521, 21522, 21523, 21524, 21528, 21529, 21530, 21532, 21536, 21539, 21540, 21542, 21543, 21545, 21555, 21556, 21557, 21560, 21561, 21562, 21610, 21620, 21645, 21661, 21666, 21667, 21678, 21690, 21701, 21702, 21703, 21704, 21705, 21709, 21710, 21711, 21713, 21714, 21715, 21716, 21717, 21718, 21719, 21720, 21721, 21722, 21723, 21727, 21733, 21734, 21737, 21738, 21740, 21741, 21742, 21746, 21747, 21749, 21750, 21754, 21755, 21756, 21757, 21758, 21759, 21762, 21765, 21766, 21767, 21769, 21770, 21771, 21773, 21774, 21775, 21776, 21777, 21778, 21779, 21780, 21781, 21782, 21783, 21784, 21787, 21788, 21790, 21791, 21792, 21793, 21794, 21795, 21797, 21798, 21901, 21902, 21903, 21904, 21911, 21912, 21913, 21914, 21915, 21916, 21917, 21918, 21919, 21920, 21921, 21922, 21930, 22003, 22009, 22015, 22027, 22030, 22031, 22032, 22033, 22035, 22036, 22037, 22038, 22039, 22040, 22041, 22042, 22043, 22044, 22046, 22060, 22066, 22067, 22079, 22081, 22082, 22095, 22096, 22101, 22102, 22103, 22106, 22107, 22108, 22109, 22116, 22118, 22119, 22121, 22122, 22124, 22125, 22150, 22151, 22152, 22153, 22156, 22158, 22159, 22160, 22161, 22180, 22181, 22182, 22183, 22185, 22191, 22192, 22193, 22194, 22195, 22199, 22201, 22202, 22203, 22204, 22205, 22206, 22207, 22209, 22210, 22211, 22212, 22213, 22214, 22215, 22216, 22217, 22219, 22225, 22226, 22227, 22230, 22240, 22241, 22242, 22243, 22244, 22245, 22246, 22301, 22302, 22303, 22304, 22305, 22306, 22307, 22308, 22309, 22310, 22311, 22312, 22313, 22314, 22315, 22320, 22331, 22332, 22333, 22334, 22350, 22601, 22602, 22603, 22604, 22610, 22611, 22620, 22622, 22623, 22624, 22625, 22626, 22627, 22630, 22637, 22639, 22640, 22641, 22642, 22643, 22644, 22645, 22646, 22649, 22652, 22654, 22655, 22656, 22657, 22660, 22663, 22664, 22747, 25401, 25402, 25403, 25404, 25405, 25410, 25411, 25413, 25414, 25419, 25420, 25421, 25422, 25423, 25425, 25427, 25428, 25430, 25431, 25432, 25434, 25437, 25438, 25440, 25441, 25442, 25443, 25444, 25446, 26704, 26710, 26711, 26714, 26719, 26722, 26726, 26743, 26750, 26753, 26755, 26757, 26761, 26763, 26767, 26801, 26808, 26817, 26823, 26845, 26851, 26852, 26865, 56901, 56902, 56904, 56915, 56920, 56933, 56944, 56945, 56972